Request a free quote from SBC for your next debris hauling project. We offer affordable rates and excellent service for Dumpster Rental, Waste Removal and Recycling in Old Saybrook, New London, Middletown, CT and surrounding cities. We also offer Residential and Commercial Waste and Recycling. Call us at (860) 388-1081 or use the form below.
Book your dumpster rental online!
*10 cubic yards – $395.00 – Includes 2000lbs
*15 cubic yards – $495.00 – Includes 4000lbs
*20 cubic yards – $595.00 – Includes 6000lbs
*Dumpster prices listed are for online purposes only. Price includes 2 weeks rental. Additional weight is assessed a fee of $70 per half ton.
*Car tires and mattresses are an additional rate.
*Car tires, mattress and overages will be automatically charged at the time of disposal.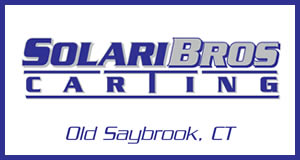 Solari Brothers Carting LLC
Hours of Operation:
Monday – Saturday: 7:00am-5:00pm
Sunday: 7:00am-3:00pm
Phone: (860) 388-1081
Payment Methods:

Website Reviews
Leave a Review